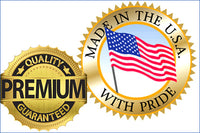 - Your dog seat cover is designed and manufactured in Los Angeles, CA, USA.

- You will protect your car in style - we use premium fabrics and accessories.
- American made car seat covers will improve your ride quality!
Testimonials
Every time I travel, I no longer have to worry about my dog soiling my car seats. Petmyride dog seat covers for trucks are the best deal. They are comfortable, top quality material and cute designs. I could never spend my money better. I highly recommend these car seat covers to everyone out there.

Laura, Fashion Designer, New York
I am madly in love with the Tesla model S dog seat cover. It is a top performing and functional leather seat cover worth every dime I paid for it. I can now travel in style with my dog at my side. Thank you Petmyride for such a thoughtful product.

Steven, IT Entrepreneur, San Diego
My dog, Buddy, is on the heavy side and it's not been easy finding a suitable seat cover for him. Fortunately, Petmyride has dog seat covers for SUVs cutting across all sizes and weight. I can now travel with Buddy whenever and wherever I go. I'm a happy satisfied customer.

Jesus, Library Administrator, Lancaster
My husband is fond of our dog. One problem though, when he travels with her in his car I always have to deal with a lot of mess. It is no longer the case thanks to Petmyride's dog seat covers for leather seats. They are easy to clean and fit in back. They are sure stylish too.

Laura, Real Estate Agent, San Francisco
Tesla seat cover model 3 is a total game changer for dog lovers. It is not only beautifully designed, but also a top functional piece for all types of vehicle seats. I am now at ease every time I travel with my pet. Such ingenuity and creativity deserves an applause.

Jason, Nurse, Los Angeles
I just purchased my first dog seat cover hammock and I don't know how I came this far without one. Installation took me under few minutes and I was ready for a road trip with Daisy, my cute dog. She could not hide her smile and I know the seat cover was the reason for the excitement.

Diana, Administrative Assistant, Dallas
Max, my dog, and I never shy away from a road trip. Ever since I bought Tesla dog seat cover, my SUV seats are never messy at the end of every journey. I'm hitting the roads more thanks to the help I'm getting from these great dog leather seat covers.

Slava, SEO, Bail Bonds, Simi Valley
Ever since I discovered that Petmyride has the best dog seat covers for leather seats, I have purchased several of them for mine and my family cars. No more excuses for leaving my dog at home for fear of soiling the car seats. I couldn't ask for anything more than these classy seat covers.

Melissa, Digital Marketing Consultant, Chicago
I'm a police officer and frequently take with me a police dog during patrols. It was not easy cleaning the car seat after every patrol. A friend recommended Petmyride's dog seat cover and I gave it a try. It is one of the best decisions I ever made to date. I use the another seat cover for my personal car

Derrick, Sheriff, Philadelphia
Location
Our store
9005 Eton Ave #C, Canoga Park, CA 91304
Mon - Fri, 10am - 9pm
Saturday, 11am - 9pm
Sunday, 11am - 5pm
WHY CHOOSE US?
Welcome to PetMyRide, dog boutique online, located in Los Angeles, California.
We design and manufacture premium, safe and comfortable dog seat covers for sedans, SUVs, trucks, and Teslas because we believe that dogs become essential members of every family and physical and emotional health of dogs are super important.
Dogs LOVE our car seats, so do their owners.
Either you have a puppy, grown-up dog, or both, you and your pets will be happy with our products for a long time.
Your pet deserves the best! That is why we designed our dog car seat covers and hammock car seat covers for dogs based on industry best practices, customers' feedback, and extensive market research.
So, if you have a sedan, smaller or larger truck or SUV, or just got your Tesla, your dog is about to get super comfortable.
So, why choose us?There are
OUR PRODUCTS' BENEFITS. Our hammock seat covers are
-    Easy to install. You can fit over the entire rear seat so your pet will have lots of room to enjoy long trips.
-    Hold up to 250 pounds.
 -    Water and tear resistant. Made from thick, durable, comfy material (our signature fabric). Let your dog walk around, stretch, etc without slipping and sliding. 
-    Have the foldable bridge design to fit a range of different sized cars to seat both pets and passengers.
-    Have the upper edge reinforced for no sagging once it's attached to the headrest.
 -    Have securing straps and "pods" work to hold the liner in place even while your dog is moving and pacing back and forth.
 -    Have a premium quality and stylish design. Their classy looks will make your car be chic and clean.
-    Prevents your car from hair, dirt, mud, water, etc while keeping your pet safe.
 -    Have a solid bottom (with padded wood insert), so your backseat will be in perfect condition, and your dogs' paws won't slip between seats (which happen a lot with other softer, lower quality covers)
 -    Keep your dog from falling between the seats while you push breaks, which is excellent for reducing stress for both pets and owners.
-    Seat straps have excellent quality and hold up large dogs. They are adjustable to fit any car.
 -    Can be used as car seat covers (including covering half of the seat) or dog car hammocks.
 -    Have Models with door panes which would completely protect your doors from scratch, and create a cozy environment for your dog. Our customers say that their dogs feel more relaxed and sleep more during the ride when they use our car seat covers
 -    Our covers have a pocket where you can store your dogs' favorite toys, medicine, snacks, etc.
 -    Have a "Designer Inspired Edition," which genuinely unique. We manufacture our "designer inspired" in small quantities, and once they are gone, you will own one-of-a-kind, boutique, dog seat cover.
- Have a lifetime manufacturer warranty - we believe in our products because our customers deserve the best!
If your product is not functioning properly because of manufacturer's defect, we will be more than happy to repair it for free.